YET ANOTHER PROJECT TO BE UNDERTAKEN BY INFAMOUS CARTOONIST & WRITER!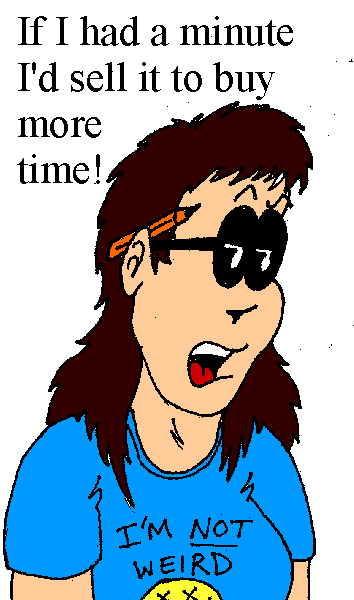 Yes - it's true. After the last release of the cartoon book "Grays Cartoonomy" (click HERE for details) Kez has apparently been working on and off (more off than on due to work commitments) for the past year on a written novel. When pressed for details Kez was less than forthcoming and told us that the project was meant to be "confidential".
However she did inform us that the written book venture was to be a Gothic Comedy Horror incorporating some adult(ish) themes and that although Kez planned to do the Cover Art for the project, it is possible that a mystery "fellow artist " may be doing the illustrations for the book. There is no current release date for the new book as of yet . As Kez is only up to chapter 14 of 24 and the Mystery Illustrator has yet to produce the artwork for the venture - it may be some time in 2009 (or 2010) before the book is published on a global licence.
We will keep you updated here as to what's happening with this project.
*UPDATE: 25th August 2008: Mystery Illustrator's computer blows up - it is unknown as of yet whether the artwork saved on the hard disk can be recovered!
*UPDATE: 5th September 2008: Double blow for Mystery Illustrator as big cock-up in wages department means he is incorrectly paid and can't pay for any bills or computer repairs until next month...
*UPDATE: 9th September 2008: Due to extra work commitments Kez has been unable to work on the book for the last two weeks - but hopes to get back on track by Wednesday next week.
*UPDATE: 30th September 2008: Kez completed chapter 14 today (approximately ten more chapters to go) meanwhile. Mystery Illustrator is hopeful that the data is salvagable as only the computer's motherboard may need replacing!
*UPDATE: 16th November 2008: Christmas is coming up and Kez's workload is about to double (possibly triple) until Decemer is over and done with. Meanwhile, the Mystery Illustrator has left and joined another workplace but still insists that he will be producing the artwork for the project, and is staying in contact with Kez about it.
*UPDATE: 2nd December 2008: Kez has been informed by current employers that she will remain in part-time work only! Kez is currently mightily naffed off to say the least and has been doing some research into various new outlets for freelance writing work (not that anything will come of it - but you never know...). Book project placed on hold until New Year as hunt for more work continues...
*UPDATE: 17th March 2009: Project has been on hold these past few months for various reasons - but specifically due to the hunt for full time work - or extra part time work. Still looking unfortunately. Mystery Illustrator has been very quiet - Kez is contemplating dropping in an email to find out what the score is...
*UPDATE: 15th August 2009: Wow! Where did the past few months go? Issues at home & work have kept Kez from writing as of late - life can be hard sometimes. Heard from the Mystery Illustrator - he is still interested in the project apparently - so Kez will drop him a line with the various outlines for the needed work later. Definately don't think the book will be out out for THIS Christmas at this rate...just hope some work on it can get done in the following couple of months...wish us luck...
*UPDATE: 13th January 2010: Project has been on hold these past few months for various reasons - but specifically due to Kez being snowed under this Christmas (no pun intended) with extra work & responsibilities. Kez did manage to get the first 689 words of chapter 15 written up earlier tonight...and after so long of having to put the writing of this project on the back boiler these past few months she reckons it felt "pretty damn good". Hope springs eternal then. I guess..?
*UPDATE: 17th May 2010: Kez has had a lot of things to deal with as of late on the home front, including the death of her father, who died on April 16th. Nil Desperandum...Nil Desperandum...there's always hope - although it may seem very far out of reach at the moment...
*UPDATE: 25th September 2010: Project has been on hold these past few months for obvious reasons. Kez is currently working on a number of other projects and art commissions, but hopes to continue with the writing before this year is out...stay tuned!